SHIATSU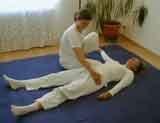 It is a Japanese massage based on Traditional Chinese Medicine. Shiatsu helps to reach health and wellbeing by creating vital energy (ki) through the acupuncture meridians by using finger pressure and body stretching.
Shiatsu massage produces deep relaxation and it is effective against body pain, such as spasms, digestive pains or menstrual pains . It increases flexibility , it brings on good humor, and it improves your body posture.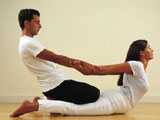 Thai massage is a combination of Ayurvedic Indian massage influenced by traditional Chinese medicine. It is also called "yoga for lazy people" because the therapist uses acupressure and joint mobilization to move you into a series of yoga stretches , whereby you can reach some of the most important Asana Yoga positions. Thai massage increases flexibility and posture straightening. One session can last 90 minutes . Thai massage is both relaxing for the mind and energizing for the body.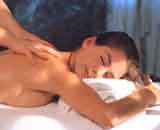 It's a very light and harmonious massage, carried out with circular movements of the hands, using abundant warm oil.
The therapeutic effects of this massage come from the inhaling of the essential oils and from skin absorption. This massage is excellent against stress and emotional tensions. A real pleasant hour of relaxation.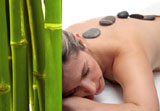 Directly from the center of the earth, volcanic smooth stones are warmed in hot water (just to reach 60-70 degrees approximately). These special stones maintain their heat for a long period and this therapeutic heat is transferred to the body. You will be driven into a warm feeling of wellbeing, with muscular and mental relaxation; these stones will also leave you with a very smooth skin.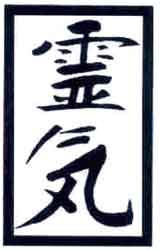 It is a natural self healing system. The universal energy is canalized through the hands which are simply placed on different parts of the body during the session. A feeling of warmth, pleasant relaxation and consciousness of the mind are just some of the perceptions you can experiment with Reiki. It balances the body, the mind, emotions and the spirit because it works on the chakra system. Reiki will inspire you to personal inner growth towards the path of love.

We organize Reiki course for all levels.

CHI-KUNG
Chi-kung is an ancient Chinese gymnastic based on traditional medicine. The forms used in this practice are complete movements which involve the whole organism and include stretching , meditation and breathing. Chi-kung exercises are believed to increase health and the individual potentials, to revitalize the body and the mind, to prevent disease, to tone up the internal organs, muscles and tendons, to improve your balance, to reduce stress, to improve the immune system, to remove toxins and to contribute to a longer healthy life. Both microcosm and macrocosm coexist together in silent practice and moving meditation. The slow rhythm and harmonious movements offer a wonderful sense of peace and beauty.